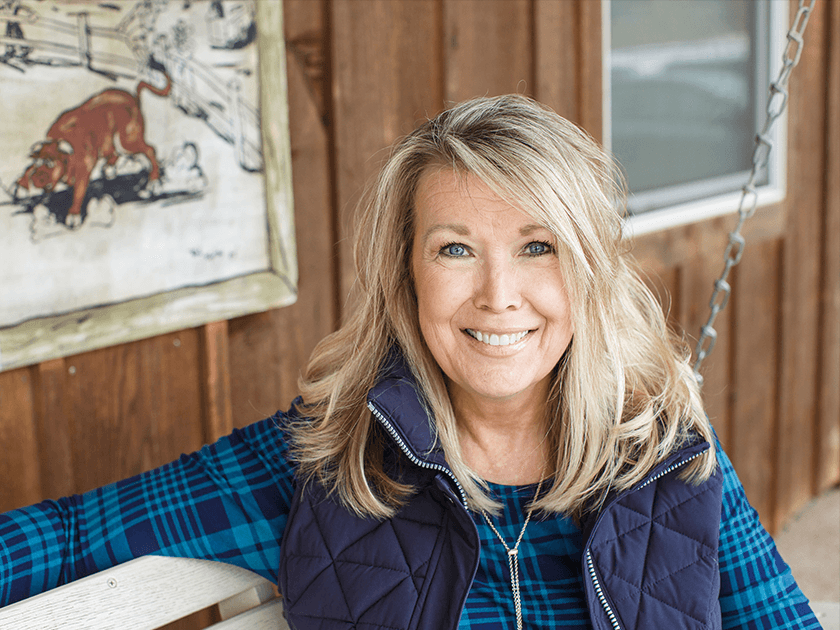 "Nothing in life prepares you to deal with someone who is struggling with addiction or mental health issues. I know first hand what it's like to feel pain and hopelessness when a family member is lost to addiction. However, I've also experienced the overwhelming joy and peace that occurs when that person ultimately finds recovery. We are considered one of the top intervention companies in America, and because of that our work is regularly featured on The Dr. Phil Show and The Doctors. While remaining firm, we use the influence of love, care and concern to break the denial barrier to get your family member or friend into appropriate treatment. We will do whatever it takes." - Debra K. Knauss, RN, LCDC
Debbie Knauss is an internationally recognized television guest, radio guest, and public speaker who specializes in helping people overcome addictions. Featured on top news outlets, such as ABC News, Entertainment Tonight, and the Huffington Post as a "pioneer in the field of television interventions," Debbie remains a preferred interventionist for the Dr. Phil show. Also, she is the co-founder of the highly sought after intervention group, VIP Recovery, and is the CEO of Touchstone Ranch Recovery Center just outside of the Dallas/Fort Worth Metroplex.
Throughout her career, she has worked in the field of behavioral health, providing inpatient, outpatient, and extended care treatment. Debbie first started down this road because of her own son's struggle with drug and alcohol abuse. She appeared multiple times on the Dr. Phil show to help her son and to let other parents know they are not alone. Debbie truly understands the experience most families go through and strives to help patients get better with the help of their loved ones. Because of her experience, she has dedicated her life to helping others overcome similar issues and has served in various capacities, including as CEO of an international treatment center and counselor in the Texas Department of Corrections system. To continue helping others, she has become an internationally recognized public speaker who specializes in the disease of addiction and advocates the importance of family involvement in the addict's recovery.
When it comes to interventions, she offers a compassionate and professional approach and works hard to educate and motivate people to take action. In fact, she knows how important it is to remove the stigma surrounding addiction and mental health, which is why she speaks at reoccurring national and international presentations and on radio and television programs about addiction. She wants patients, parents, friends, and family members to know it's always okay to reach out for help.
Touchstone Ranch Recovery Center
In addition to her public advocacy about family intervention, mental health, addictions, and substance use disorder, Debbie serves as the co-owner and CEO of Touchstone Ranch Recovery Center, which is both CARF and JCAHO accredited. Touchstone Ranch Recovery Center is one of the top-rated, co-occurring substance use disorder and disorder treatment centers in Texas. Located ten minutes outside of Stephenville, TX, the Touchstone Ranch Recovery Center team proudly offers a 90-day, dual diagnosis, licensed residential treatment center. At the center, her innovative treatment approach is a collaborative partnership with the entire treatment team. Together, they develop a comprehensive and personalized treatment plan for each client. When it comes to working with families and patients, Debbie is passionate and lives by the mantra, "whatever it takes." She and her staff work hard to ensure this sentiment is applied throughout the program and within the patients and their families. At Touchstone Ranch Recovery Center, she created the experiential "Family Program," which is truly memorable and life-changing.
Debbie attended Kansas State University, Northern Oklahoma College, and Houston Community College. She is a licensed registered nurse and a chemical dependency counselor. She continues to participate in comprehensive training and holds certifications and/or licenses in the respective states.
Public Service and Awards
Debbie has offered her expertise to several groups and has received several notable recognitions, including:
Council on Alcohol and Drugs Houston, Advisor
Katy Independent School District Safe and Drug-Free Task Force, Board Member
Houston Astros' Celebrate Recovery Program, Chairman
West Coast Symposium on Addictive Disorders, Keynote Speaker
The Power of Prevention Breakfast Benefiting the Council on Alcohol and Drug Abuse, Keynote Speaker
Helen Cordes Award Dinner benefiting Fort Bend Regional Council on Substance Abuse, Inc, Keynote Speaker
Who's Who Among Executive and Professional Women in Healthcare and Nursing
Reviews
""Debbie and Brandon (Wow, what a team) With their combined talents of strength, organizational skills, patience, kindness and passion; timeless efforts and persistence...when you thought that all was lost, they put it out to the universe to let the greater powers that be take charge..and take charge he did." - Michigan"
J.T.
Office Visit
""Debbie, words cannot express our gratitude for what you, Brandon, and the entire production staff has done for ...... and our family. Life truly is amazing, thru the power of prayer and the trust that we have in God he sent us you for help in one of our greatest times of need. We felt so powerless, and then somehow God sent you into our lives with a message of hope for our son, ........ I thought I was a strong guy until I met you, but I have truly met one of the strongest women I have ever met in my life. Thank God you took charge and forever changed the destiny of your son Brandon's life. He is truly an incredible man to have overcome such odds and I know how much you love him and he loves you. Our prayers were truly answered this weekend as you took time away from your family to try and save our sons life and we will be forever grateful for that. Debbie you are a wonderful lady with a great message to the world that thru perseverance there is hope for everyone suffering from addiction. I have thru this process this weekend learned one more powerful lesson that was reinforced so strongly this weekend that the power of love is unstoppable, and always brings out the best in all of us. Love for one another has and will continue to be the greatest message of hope that we offer any one in a time of need. Thanks so much for your expression of love for our family. You were right I feel like I was hit by a Mack truck when I awoke this morning. I have been sitting at my desk this morning with my sunglasses on because my eyes look so bad. My door is closed and I have just been weeping from all that has happened. I feel relief, sadness, and happiness and have never felt like this before. I found myself this morning while unloading ....... golf bag, smelling his worn clothing, and I said to myself what is wrong with you. I look forward to the day I can smell him again in person because of your kindness. Debbie please don't hesitate to call on me for anything that I can do for your organization, or your family I will be there for you just ask. May God richly bless you for the work that you are doing." B.P. - New Jersey"
B.P.
Office Visit
"I feel enormous respect for you Debbie and Brandon, and your work as specialists in the field of addiction and recovery. Your compassion and your expertise, to be calm in the eye of the storm, builds momentum. Together as a family you show what love is, and sometimes, love is courage. Brandon I'm glad you're alive, and Debbie and Doug, I'm glad you took Brandon seriously and reached out to Dr. Phil. Brandon, I'm happy you are using you talents and dynamic personality to inspire and to lead others, especially for boys and men in our communities. As a mother against impaired driving and as a teacher, I wholeheartedly support your efforts. T. S. - California"
TS
Office Visit
""I just wanted to take a moment and thank both you and Brandon for all your help this past weekend. What you do is so amazing and I will be forever grateful for your help in getting my daughter the help she so desperately needed. Brandon is quite a remarkable man; he made a huge impact on my daughter! I still can't believe we were so fortunate to have you both with us this past weekend. From the way you just happened to pick up my sister's telephone call, to being available the weekend I was flying my family to ......, to getting ......on board - someone up there had a "hand" in all of this. .... Is not happy with me right now - she's angry because I pulled her away from her birthday and Christmas with the family. That's OK, I know it's not my daughter talking and at least I know by getting her to ...... now, she WILL be with me and the family next year." D.L. - Illinois"
DL
Office Visit
""Dear Debbie and Brandon, Please know how grateful our family is to have received your professional help for my brother. As you know, we as a family did not possess the tools necessary to effectively provide the support or roadmap he desperately needed to get onto the road toward recovery. Your ability to take an emotionally strained family, agonizing over the past and afraid of the future, and turn them into a group of people with purpose was impressive. Your knack with balancing sensitive family issues while treating people with dignity and respect is commendable. Your experience, organization, and passion made executing an effective intervention plan possible. Not only did our family leave the intervention feeling empowered that we can make a difference, but more importantly you were able to reach my brother and send him on his journey of recovery. "I can honestly say that after working with you I felt, 'now there goes two people who are on fire to change the world for the better.' Thank you for recognizing your gifts and talents and using them to help others. We appreciate all that you have done for us." S.H. - Arizona"
SH
Office Visit